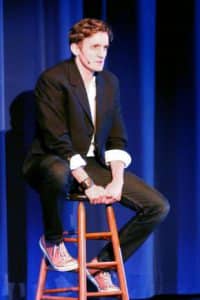 Born and raised in Las Vegas, I've been in theater since I can remember. I am so lucky to say that I have performed in over 30 productions in 14 different countries!
I most recently had the honor to perform with the unbelievably talented Zion's Youth Symphony & Chorus (made up entirely of 14-18 year olds mind you) as a guest soloist in Rob Gardner's "Lamb of God" at the beautiful Smith Center in Las Vegas, NV. Before that, I had almost TOO much fun traveling all over these great United States with the national tour of Mel Brooks' The Producers.
Some of my favorite roles I've been lucky to play have been: Emmett Forrest(Legally Blonde), Robert Martin(Drowsy Chaperone), Lt. Cable(South Pacific), and Ren McCormick(Footloose).
I KINDA had my Broadway-debut on the St. James Stage when I performed in Voice for the Voiceless–a Seth Rudetsky benefit concert which raised money and awareness for teenage orphans who have not yet been placed in a home.
I am VERY excited to be working with Tibbits Opera House this summer as Curly in Oklahoma! I'm so grateful they took a chance on a newbie! AND I CAN. NOT. WAIT to spend a week with my Allegro Wolf family for the second time at their Broadway Academy this year in beautiful and charming Sutton, Nebraska! Seeya Soon!